I Called for Service – Now What?
Whether it's your cell phone that contains all of your critical contact information, a laptop with those work files you've been laboring over all week, or a desktop that houses your children's school projects, one of the scariest moments in modern life is when the devices that are designed to make our lives easier go down. Not only do you have to deal with the fear that you might lose some irreplaceable data, but you also have to cope with the trauma of being without a device you depend on for an indeterminate amount of time.
Fortunately, professionals like our technicians here at PCS are adept at getting your home or business back up and running quickly. Yes, technical service calls (or leaving your device with a repair shop) are subjects that most folks also dread, mainly because they don't know what to expect. Here are a few things you should keep in mind when you contact a computer technician.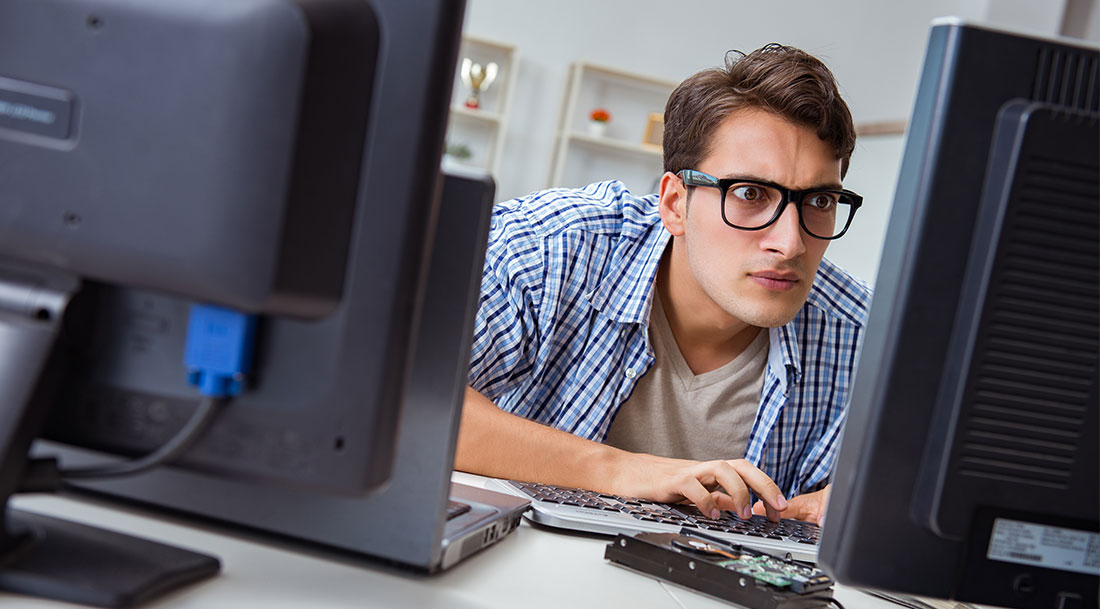 Your professional technician from Personal Computing Solutions is here to help!
It shouldn't take forever.
Yes, it can be challenging for your technician to know exactly what they're getting into when they first look at your device. A basic install that requires 15 minutes on one machine could churn for over an hour or more on another. Likewise, what appears to be a simple problem can really go much deeper once we dig into the details. However, some basic rules still apply. It should never require a week or more to take care of a repair (unless your technician is waiting for specialized or difficult to attain parts). In most cases, 2 business days is more than enough time to repair a device left with a PCS technician.
You should understand costs.
A legitimate firm will be able to give you a solid understanding of costs you are likely to face upfront – before they begin work. At a bare minimum, they should be able to quote you an hourly rate and an estimate of the hours your project should require to complete. While rates vary per geographic area, industry standard is within the $60-$90 per hour range. An experienced organization who has seen and dealt with pretty much anything you can throw at them will be able to give you a more firm estimate than someone who hasn't handled your issue before. (And they also will be more likely to complete your repair for less, since they've already seen and dealt with it in the past.) Two things worth noting: Some companies have flat fees for particular services (which is great for consumers), and you will most likely pay more for on-site service by a technician, but it should not be drastically more.
"For many organizations, remote assistance is a true lifesaver… In many cases, it also can get a computer back up and running more quickly."
Remotely possible.
For many organizations, remote assistance is a true lifesaver. This is when a computer technician can stay in their office and remotely walk you or an employee through fixing an issue on your computer or the tech can actually enter your computer virtually to repair the issue themselves. This reduces costs by eliminating an on-site service call. In many cases, it also can get a computer back up and running more quickly, because the computer technician doesn't have to schedule a time that works, fight traffic to reach your site, etc. 
Maintenance saves budgets.
Just like any other aspect of your home – from your yard to your air filters to your plumbing – regular maintenance can catch small issues before they become major problems, keep your hardware and networks running in prime shape, and ensure that the applications, programs, and operating systems you use are up to date. That's why many organizations contract with a company like PCS to keep their systems operating well, so their employees can function at their best without having to worry about tech issues.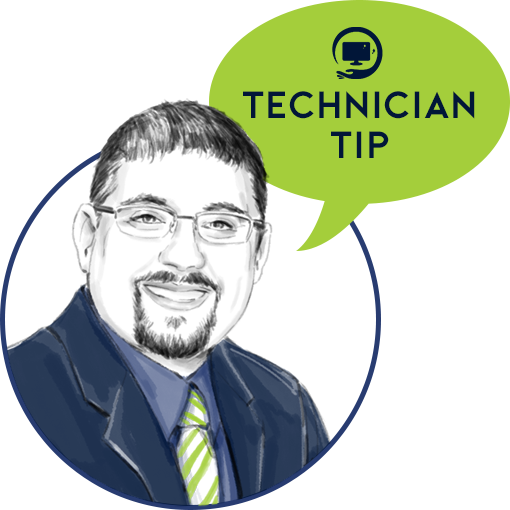 The more detail, the better! Your technician will need to know the exact steps you took that revealed the issue, and the full text of any error messages that you received. Screenshots are even better! The more detail you're able to give, the faster we can help solve the problem and get you back to computing. – Vinnie Sanchez, PCS Computer Technician
Ask around.
Who should you call to handle your computer repairs? We firmly believe in taking the time to check before a client entrusts us with the business or residential needs. We recommend checking online reviews, your local Better Business Bureau, and of course, asking friends, neighbors and colleagues who they have used and liked in the past. Oftentimes, that word of mouth recommendation will tell you far more than what you can gather from an online review.
Now that you know more about what to expect during a service call, it should alleviate some of the anxiety and help you get your technology back up and running – quickly and affordably.